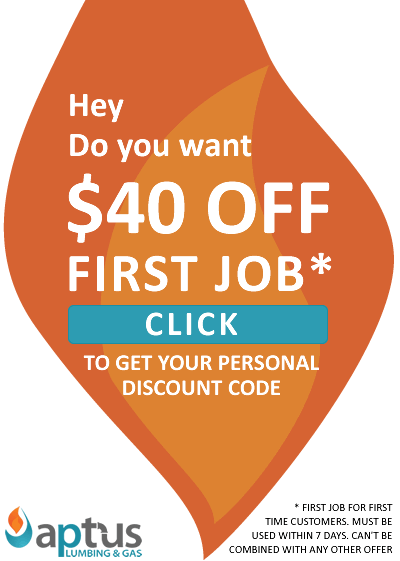 Quality plumbing choices for your bathroom renovation
11 Sep 2019
One of the vital areas for considerations when renovating a bathroom is to ensure that you know the approximate placement of where you want the vanity, shower, bath, toilet etc...You not only have hot and cold water entering, you also have waste water exists through drainage, so all this has to be taken into account.

Once you have a plan in mind, give Aptus Plumbing and Gas a call and we can walk through the space with you, advising the possible locations of these items based on the structural parts of the room and floor. Our plumbers northside are experts on this.

Such is the case with a couple who wanted to remove an existing bathroom and install a more modern and aesthetic bathroom. Our plumbers northside were able to advise them that the position where they wanted the shower located could possibly clash with the floor joist. We changed the location and were able to install the shower drain in a position which was best suited for the shower pan, then continued to design the remainder of the bathroom around that.

We inspected the existing plumbing to see if it could be used in the same position. However, the positions needed to be changed so new plumbing was installed, taking into account the thickness of the finished wall lining which was tiles. The clients were unsure about what bathroom fittings to use, so our plumbers northside were also able to provide them with quality options and finishes. The clients were very happy with the end result and the help given to them by Aptus Plumbing and Gas.

Where do you need a plumber?
Aptus Plumbing and Gas have a team of plumbers servicing the Brisbane Northside. We get to most plumbing jobs on the same day.

For all plumbing problems like this in the Brisbane Northside, get in contact today.

REQUEST A QUOTE
Lately for Brisbane Northside Plumbing
News and Case Studies

We happily service all areas of Brisbane. Get in touch today.
And enjoy peace of mind with a dedicated team on call 24/7
Reviews
Hear from our satisfied customers
Called about a problem hot water system and they came out the same day and got it working enough until a new s... more
Trevor Dhamu&>
13 Jul 2020 Verified
Steve was a very pleasant & friendly Plumber who came to fix our hot water cylinder which he did no problem by... more
Donna Rutherford&>
13 Jul 2020 Verified
Aptus plumbing were contracted through my real estate agent. They came out on a Saturday to fix a busted runni... more
J&>
03 Jun 2020 Verified
READ MORE REVIEWS