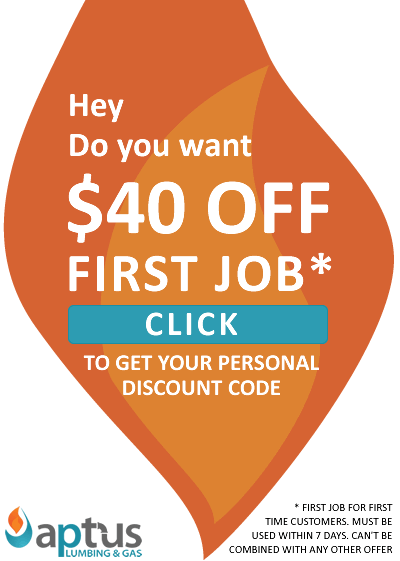 Reflecting On The Journey Of Aptus Plumbing & Gas
09 Jun 2021
by Brett Mulhall
Here at Aptus Plumbing & Gas, we've got a very specific vision of the work we'd like our team to undertake. We know exactly how we'd like to treat our customers and how to treat our staff, and to help make that vision easier to understand, we've gotten the team together to make a stunning video that you can see
here
.
This video was a chance for us to sit down and vocalise what makes Aptus Plumbing & Gas stand out from the competition. We considered quite a few ideas, but ultimately, we decided that the Aptus Plumbing & Gas difference comes down to our core principles: professionalism, integrity, thoroughness, and honesty. These values factor into everything our team does, from putting on our uniforms first thing in the morning to shaking your hand on the way out of the job site, and everything in between.
We also took this opportunity to reflect on the initial values that we built Aptus Plumbing & Gas on, which we found where just as relevant today as when we first started our journey. Our team of plumbers was founded on the basis of providing customers with stellar communication, outstanding pricing, and, of course, a high-quality result that just couldn't be beaten. More than twenty years later, we think we're still doing a pretty good job of hitting all three targets.
Most of all, making this video allowed us to slow down and reflect on the journey that Aptus Plumbing & Gas has undertaken as a whole. While our team has grown, while our service areas have expanded, and while the tools we use today are a little different to the ones we had when Aptus Plumbing & Gas was founded, we're still doing the same thing today as we were all the way back then: we're providing customers with a high-quality product, at a decent cost, in a timely manner. No matter how much has changed, we're confident that will always stay the same.
If you or anyone you know is having a problem with your plumbing in Brisbane, please do not hesitate to reach out to our outstanding team on (07) 3205 1991. We'd be more than happy to help you.
Where do you need a plumber?
Aptus Plumbing and Gas have a team of plumbers servicing the Brisbane & Moreton. We get to most plumbing jobs on the same day.

For all plumbing problems like this in the Brisbane Northside, get in contact today.

REQUEST A QUOTE
Lately for Brisbane Northside Plumbing
News and Case Studies

We happily service all areas of Brisbane. Get in touch today.
And enjoy peace of mind with a dedicated team on call 24/7
Reviews
Hear from our satisfied customers
Brian Engeman
24 Dec 2021 Verified
Very professional and extremely helpful. I will be promoting them in our apartment building. Install all new taps and flexible hoses after finding only 2 hoses showing wear. Honest reliable and fair

Aptus Plumbing & Gas response: Such a pleasure to assist you with your plumbing works. Thanks so much for letting us be apart of your works.
Thea Meaker
17 Dec 2021 Verified
Thank you so much to the team at Aptus, from the initial contact right through to install the team were amazing. I thought the removal of my old internal gas instantaneous hot water system and the ins... more

Aptus Plumbing & Gas response: Thanks for a great review Thea. It was a pleasure to assist.
Trish Rose
10 Dec 2021 Verified
Excellent service always. We have used Aptus for a number of years now and always receive efficient attendance, detailed photo's and reports and very competitive pricing for the property owner's of ou... more

Aptus Plumbing & Gas response: Thanks Trish for a great review. Such a pleasure to continue to assist.
READ MORE REVIEWS